Jagdalpur city of Bastar district is the tourism capital of Chhattisgarh state and known for list of nearby tourist attractions, adventure tourism, Kailash Caves, waterfalls and Kanger Ghati National Park. The city of Jagdalpur is listed as one of the must visit places to in Chhattisgarh. Here is the list of top 5 famous tourist attractions near Jagdalpur.

* Chitrakote Falls

Chitrakote Falls is the widest waterfall in India and often called the Niagara Falls of India. The 29 metres tall Chitrakote Falls is created by Indravati river, located 38 kilometres from Jagdalpur in Kanger Valley National Park.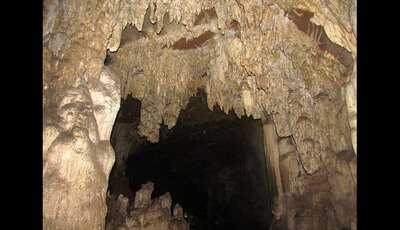 * Teerathgarh Falls

Teerathgarh Falls is second most popular waterfalls, located at Kanger Ghati of Jagdalpur in Bastar district. The block type waterfall on the Kanger river is one of the must visit place near Jagdalpur.

* Kotumsar Cave

Kotumsar Cave is a limestone cave near the bank of river Kanger in Kotumsar village. The limestone cave situated in Kanger Valley National Park and one of the most biologically explored caves in India.
* Kailash Cave

Kailash and Kutumsar caves near Jagdalpur are two most popular tourist destinations, located in the Kanger Valley National Park. These caves are located around 40 km from Jagdalpur and features stalactite and stalagmite formations.

* Bhainsa Darha

Bhainsa Darha is water pool inside the Kanger valley and surrounded by hills. The water pool at deep gorges are best place for Crocodiles and Tortoise.