World Cup: Don't despair, let's celebrate this India team
India may have found the going tough when it mattered the most, but they had been an indomitable force throughout the tournament, as the manner and margin of victories in the last 10 games showed. India shone for most part, but there were those key moments that would stay in our memories forever.

TOI revisits those scenes...


Rahul-Kohli partnership in Chennai: Chasing 200 for victory on a slightly tricky track, India were reduced to 3 for 2 when Kohli and Rahul got together. A loss in that game would have allowed self-doubt to creep in and India earned a stroke of luck when Mitchell Marsh dropped Kohli when the score was 20. After that Kohli and Rahul, who made a superb comeback from an injury in the lead-up to the World Cup, were involved in a 164-run partnership that laid down the marker. They mixed caution with aggression, took on leggie Adam Zampa and ran away with a six-wicket win that could so easily have gone the other way.

Dismantling of Pakistan in Ahmedabad:
In World Cups, India have had the upper-hand over Pakistan and it wasn't a surprise that India won. But it was the way the top-order chased down 192 on a track where spinners were getting some help made everyone sit up and take notice. There was absolutely no fear as Rohit Sharma launched into a vicious attack on the Pakistani bowlers making 83 off 63 balls. As India got the runs in just 30.3 overs, all watching teams knew that this home team is a different beast.


Pandya's injury and Shami's inclusion: It was a difficult decision for India to keep Mohammed Shami out of the team in the first four games. But when Hardik Pandya got injured in Game 5, against Bangladesh, India were left with no option but to include Mohammed Shami in the playing XI. The in-form 33-year-old, sitting out till then with a sense of hurt, made an immediate impact after being drafted into the team against New Zealand. In the Dharamshala heights, it was his 5/54 that helped India restrict New Zealand to a manageable 273 after the Kiwis had got a great start. Shami followed it up with a truckload of wickets and became the best bowler of this World Cup by a distance.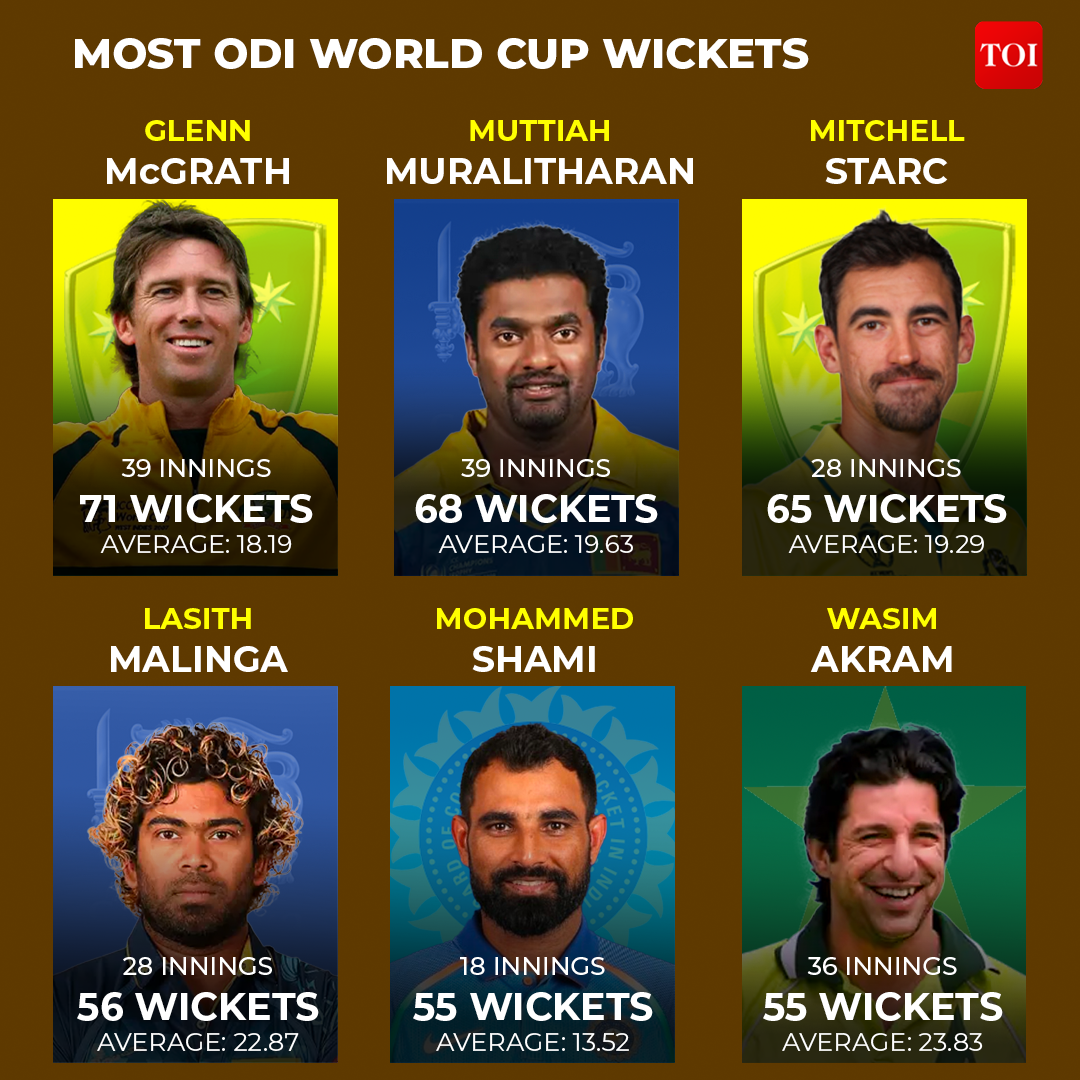 Defending 229 in Lucknow:
It was the first time in this World Cup that India were batting first and on a difficult pitch Rohit's magnificent 87 helped the Men in Blue reach 229, which is sub-par in modern-day ODI cricket. There was a strong feeling that India would suffer their first loss of the tournament, but the Indian bowlers reacted brilliantly. Bumrah's outstanding opening spell was followed up by Mohammed Shami's 4/22 and England collapsed to a 100-run loss. Rival teams knew that it would be very difficult to challenge India.


Iyer coming good against Lanka: All the components of the Indian machine had fallen into place, barring one. At No. 4, Shreyas Iyer wasn't getting the runs and he was probably one failure away from getting dropped. The right-hander was finding it difficult to deal with the short ball till then, but chose his home ground Wankhede to put all the doubts to rest. Iyer's 82 off 56 balls meant India had absolutely no weaknesses which the opposition could exploit.


Dismissing Kane Williamson in the semis:
For the first time after their first game against Australia, there was a sense of doubt creeping in as New Zealand needed 200 off 20 overs on the Wankhede batting paradise. Kane Williamson and Daryl Mitchell had settled in beautifully and five more overs of that partnership could have spelt doom for India. It was at this point that Shami, coming back for his second spell, broke the 181-run partnership by removing Williamson. The paceman finished off with 7/57 as India marched into the final.


A STAND-OUT MOMENT TO CHERISH

Kohli's 50 ODI century: Breaking Sachin Tendulkar 's ODI centuries record in front of the Little Master at the Wankhede, was truly a fairy-tale moment not just for Kohli but for all those who have followed these two Indian greats over the years. Kohli could have got his 49th too in Mumbai earlier against Sri Lanka, but fell short by only 12 runs. He equalled Tendulkar in Kolkata and followed it up with the most crucial century of the World Cup in Mumbai. While it was a personal milestone of massive proportion, the 117 off 113 balls was central to India getting 398 on the board that made the difference in the end.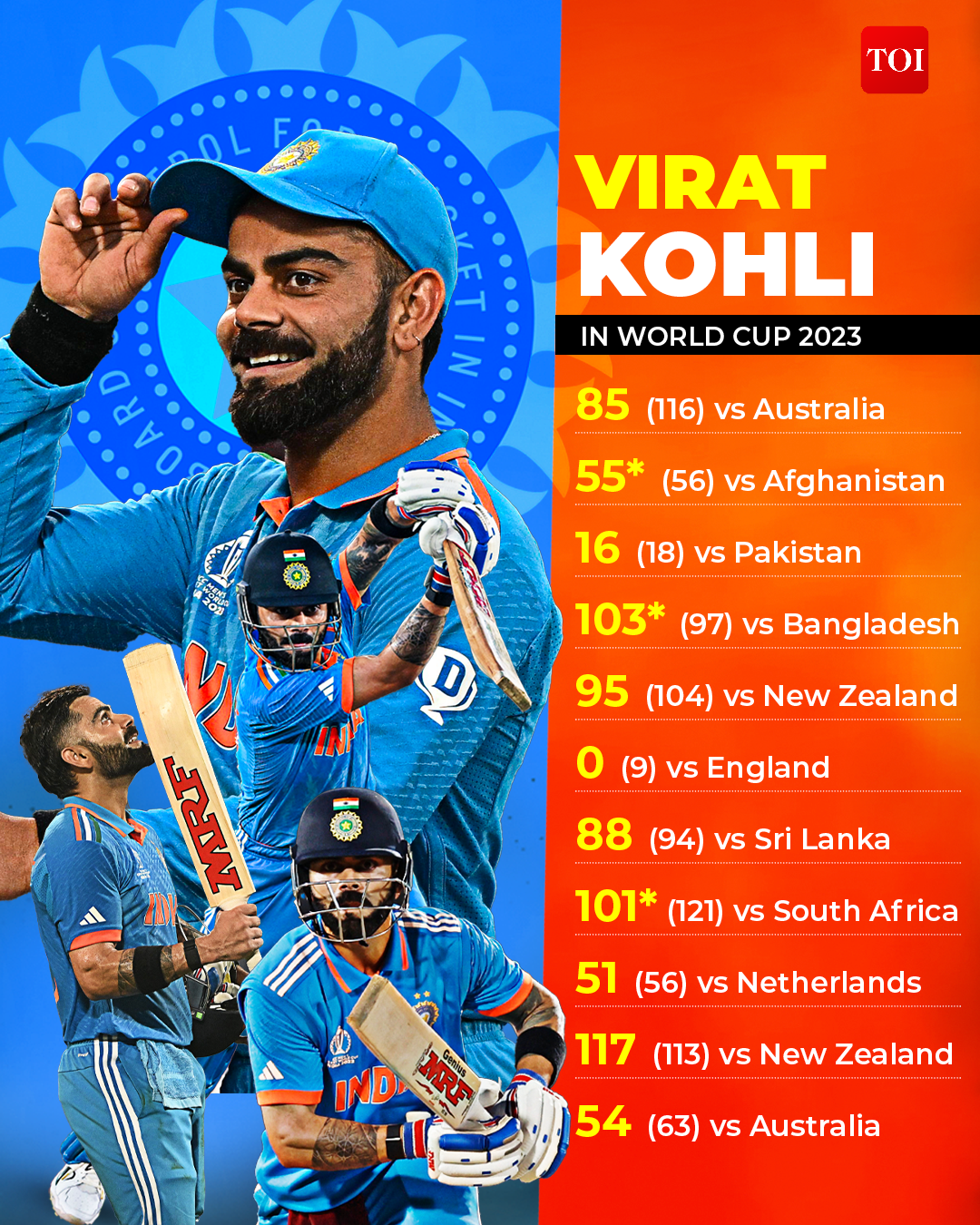 READ ON APP