World Cup: Why Team India needs Rohit Sharma as captain for at least 2 more years
NEW DELHI: On that terrible Sunday night in Ahmedabad, Rohit Sharma must have felt incredibly alone as he made his way up the Narendra Modi Stadium's lengthy staircase, shaking hands with everyone who stood in his way.

Such a setback in the World Cup final may have felt like a knife in the chest. He had to get out of that stadium fast.
Even if it seems like everything has fallen apart around Rohit Sharma, Indian cricket team needs him to lead the team for at least two more years in longer forms now more than ever.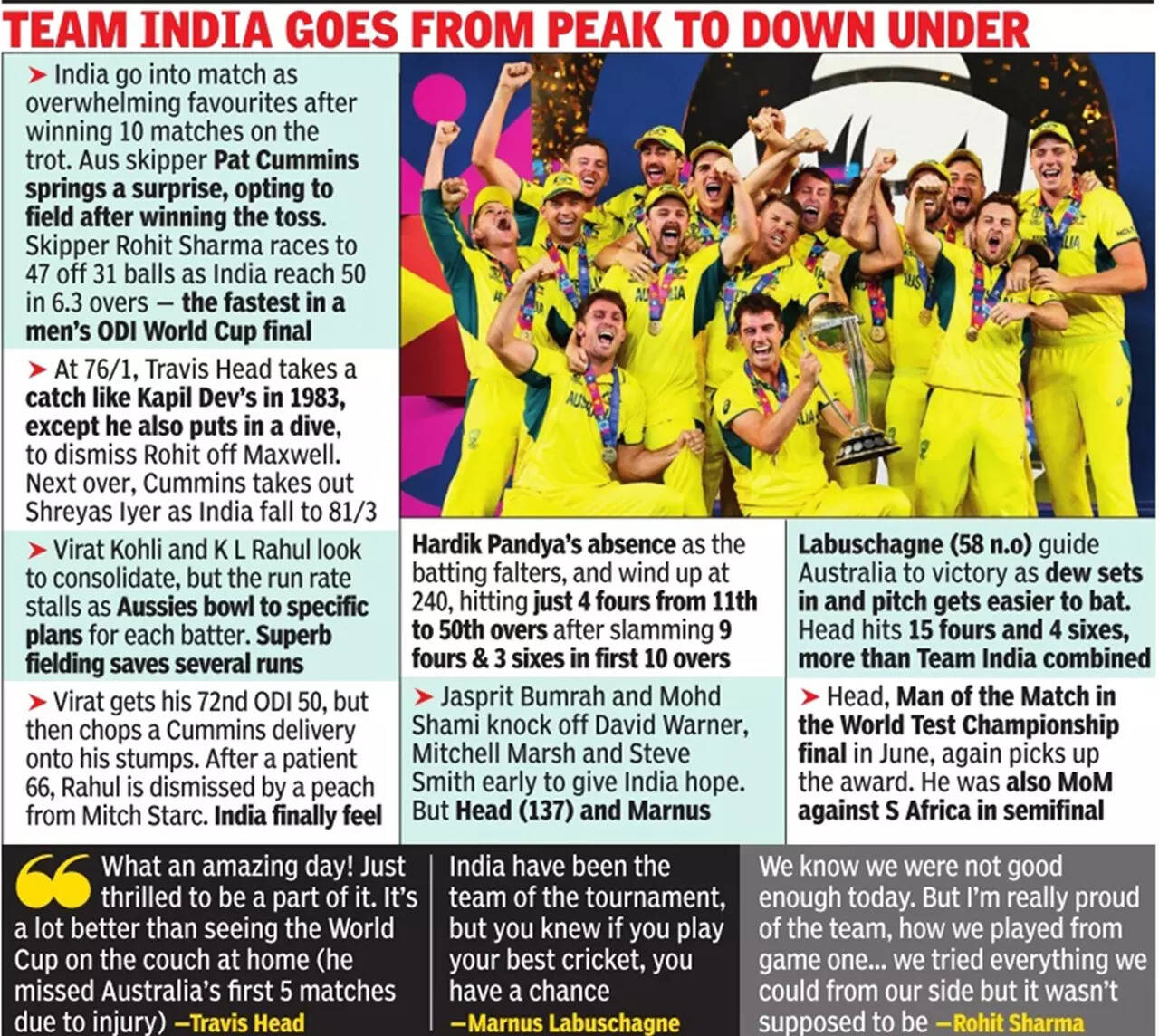 Dhoni was a ready substitute for Rahul Dravid when his time as captain ended in 2007, and Virat Kohli was already in place to take over as captain when Dhoni left. And Rohit was prepared to succeed Kohli in the role.
But in a team where the youngsters are years away from taking the leadership role, the selectors will have no choice but to continue with Rohit.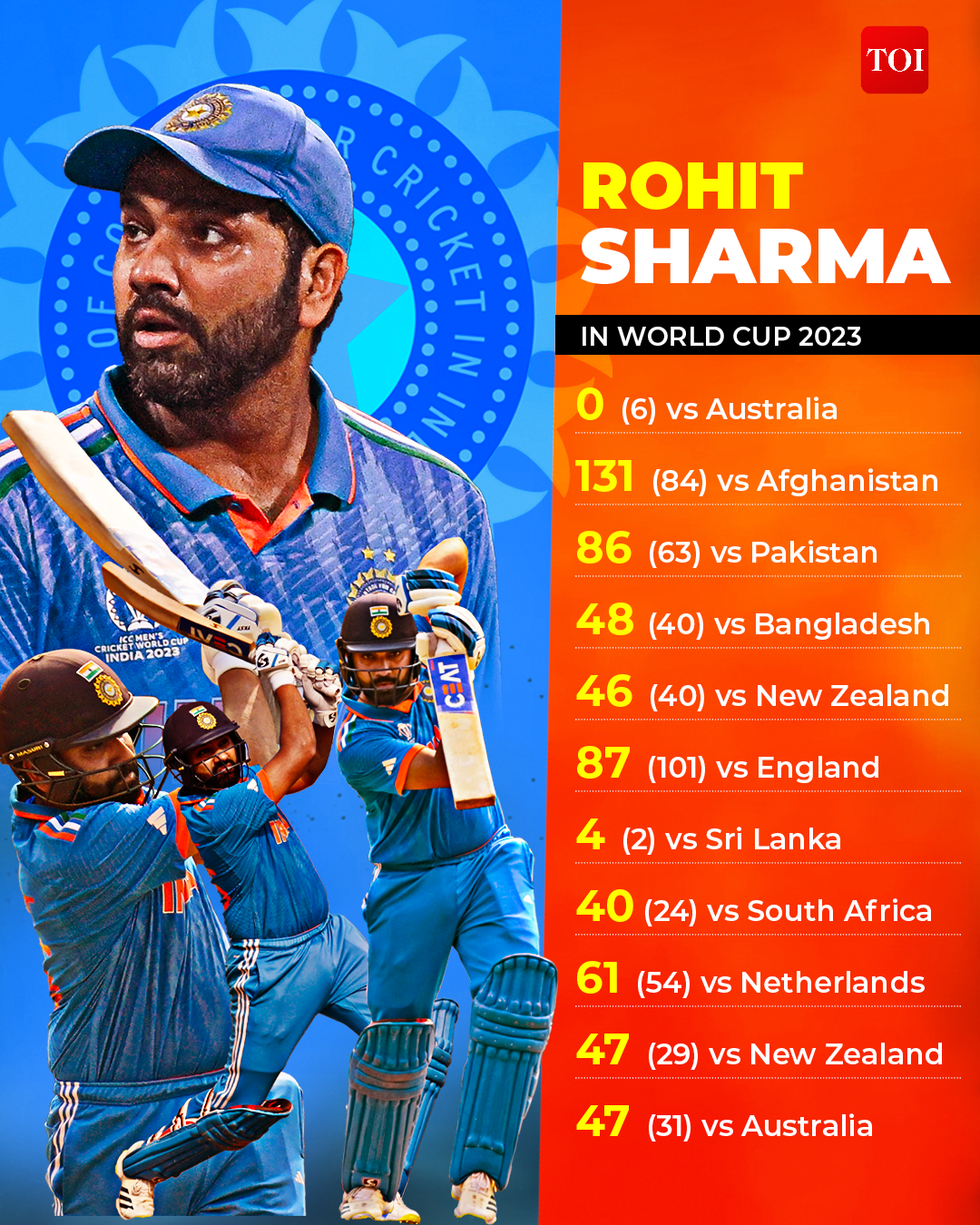 It's clear from listening to coach Rahul Dravid how dedicated he was to his players, which may be why following Sunday's disaster, he appeared to have lost all emotional stability.
"He's been an exceptional leader. Rohit's really led this team fantastically. He's given so much of his time and energy in the dressing room to the boys. He's always been available for any of our conversations, any of our meetings," Dravid said after the match.
Throughout the past six weeks, "Captain Sharma" has delighted us with his audacious top-scoring, astute use of his bowlers, and occasional sprinkle of comedy amid an intense competition. And Rohit never had to strive to be hilarious, just like his easy pull-shots.

And you break someplace inside when you see him broken.

"He's given a lot of his personal time, energy into this campaign. And he wanted to lead by example. Right through the tournament, he was quite superb in doing that. I just can't speak more highly of him as a person and as a leader," Dravid added.

Rohit is currently over 36 and will turn 40 in 2027 when South Africa hosts the World Cup. Maybe he missed his opportunity to win a 50-over World Cup, which his opponent Pat Cummins described as the ultimate sporting event.


However, the Indian cricket officials ought to have Rohit lead the team for the next two years rather than trying to find a quick replacement for him. This would be crucial for Indian cricket before it starts to click another transition button once more.


Given his age, Rohit will undoubtedly have to select the bilateral ODI series he wants to play, particularly the ones with the white ball.

He has been India's best batter in Test cricket under all circumstances in the post-COVID-19 era, and the team is in desperate need of him.


The ICC Champions Trophy and the current World Test Championship ( WTC ) cycle will both expire in 2025.

Until then, Indian cricket genuinely needs Rohit Sharma to be its captain and mentor, and this cannot be negotiable.

The cause is that India lacks a ready-made captain for both Test and ODI cricket.

Hardik Pandya has been selected for T20 Internationals, but for ODIs, one must adopt a different mindset. Although Hardik was named deputy during the World Cup, his workload and fitness would always be a concern.



KL Rahul and Jasprit Bumrah , who did captain India in a one-off Test series and a brief T20 series in Ireland, are the other two options.

However, neither Rahul nor Bumrah have exactly had an experienced captain's appearance.

As the captain of the Kings XI Punjab and the Lucknow Super Giants for a considerable amount of time, Rahul has yet to win an IPL championship.

Along with leading India, he lost all three ODIs and one Test match during their 2021-22 tour of South Africa.


And this is where the issue is. This team has adopted a different playing philosophy thanks to "Captain Sharma," and in order for that to continue, he must be in top form and captain the team in at least two formats.


He needs time to prepare his successor for the hot seat, so the national selection committee and BCCI must grant it to him.

(With PTI inputs)

READ ON APP