Trivendra Singh Rawat is a self-made man who has risen from the ranks. A Rashtriya Swayamsevak Sangh pracharak, he took over as the eighth Chief Minister of Uttarakhand in 2017. Since then he has been driving an ambitious development agenda to foster the growth of the state cradled in the mountainous region.
In an interview on the sidelines of the India Economic Conclave – North Chapter, he spoke to timesnownews.com about innovative ideas to usher in progress, the recently inaugurated Hindon-Pithoragarh flight and the contentious NRC.
Akrita Reyar: A major announcement that was much talked about in Delhi was the inaugural Hindon-Pithoragarh flight. What are you hoping that it achieves?
Trivendra Singh Rawat: It has given a lot of boost to our region and will attract tourists to Pithoragarh and the adjoining areas. On one side is Nepal and on the other side are the high mountain ranges of the Himalayas. The route to Kailash Mansarovar as well as the area where China, Nepal and India intersect – called 'Kala Pani' – both routes pass from there. It is a very beautiful terrain. Because of this, there was a lot of demand for heli (helicopter) services. Now, larger planes, up to 40-seaters, have started landing.

CM Trivendra Singh Rawat and Union Minister Gen VK Singh (Retd) while flagging off the first commercial flight from Ghaziabad to Pithoragarh at Hindon civil airport | Pic Credit: BCCL
Akrita Reyar: National Register of Citizens (NRC) in Assam has been a policy that has generated some amount of controversy. The policy relates to the identification of Indian citizens who are residents and weeding out illegal migrants. You have mentioned you are open to implementing the same in Uttarakhand.
Trivendra Singh Rawat: We are studying it, as of now. And we said that if required, we will implement it. Ours is a border state which has 675 km of the international border. We have to think about it from that point of view as well. We will sit and discuss what needs to be done. But NRC is certainly deserving of serious thought.
Akrita Reyar: As Chief Minister of Uttarakhand, you have announced an ambitious plan to develop 13 themes in 13 districts. Please tell us something about it.
Trivendra Singh Rawat: We are developing a project –'13 Districts, 13 new Destinations'. For example, we have Tehri Lake which is approximately 42 sq. km. We are developing a water activity zone. We have already released land for the project.

Mostamanu temple in Pithoragarh | Pic Credit: Facebook
Another example is that of Pithoragarh. At about a height of 6500-7000 feet, a place called Mostamanu is located. There is a temple there and the Panchachuli range of the Himalayas is also visible. We are developing a tulip garden of around 50 hectares there, which will be the biggest tulip garden in India. Right now, the other tulip garden is in Kashmir which, I believe, is around 1 hectare. An estimated Rs 50 crores will be spent on the Pithoragarh tulip project.
In the same way, in Almora district's Katarmal there is a Sun Temple which we are developing into a spiritual destination. In Nainital, there is Mukteshwar; in Pauri district, we are developing Satpuli and in Chamoli- Gairsain.
In this manner, we are developing a theme destination in every district. We are hiring a company to design all this. We will base themes around yoga and wellness as well, using power and water directly from nature.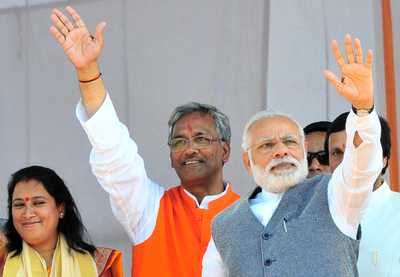 Trivendra Singh Rawat with PM Narendra Modi after taking oath as CM in March 2017 | Pic Credit: BCCL
Akrita Reyar: You took over as the CM in 2017. It's been two years now, how has the Uttarakhand economy performed?
Trivendra Singh Rawat: If you see in terms of GDP, two top states in India are Karnataka and Uttarakhand. Karnataka is at No. 1 and we are at No. 2 position. Per capita income is also increasing; in the very first year it was around Rs 1.61 lakh, in the second year it rose to around Rs 1.76 lakh, and in two years it has become around Rs 1.98 lakh. This is much higher than the national average, which is around Rs 1.20-1.25 lakh. Thus the state's per capita is increasing rapidly. We also making rapid progress in the field of green energy.
Akrita Reyar: What about the mountainous region from where there are maximum migrants?
Trivendra Singh Rawat: In the Uttarakhand Investor Summit Rs 40,000 crores worth of MoUs were signed only to develop the mountainous regions. In the hospitality field, the Taj hotel has developed one property and more are in the pipeline. The Suri Group and Kapoor Group - they all are investing here to develop hotels. We are also developing Aroma Parks. The demand in this business is very high. We are, in fact, unable to meet the demand of the traders who are mostly from Kannauj. Still, we are developing clusters for cultivation of aromatic plants. In the aroma business, the volume is very low, but the value is very high and (the plants) don't get spoilt fast.