Delhi and Two Other Indian Cities Rank Among the World's Most Polluted Today; Delhi Grapples With Severe Smog
New Delhi, India, is currently shrouded in a dense and hazardous smog, as air quality continues to languish in the "severe category." Joining the Indian capital on the list of the world's most polluted cities today are Kolkata and Mumbai, as reported by Swiss Group IQAir .

New Delhi once again claims the undesirable top spot, registering an Air Quality Index (AQI) of 483 at 7:30 am today.
Following closely behind was Lahore at 371, with Kolkata and Mumbai not far behind, ranking among the top five cities significantly impacted by air pollution, recording AQI values of 206 and 162, respectively.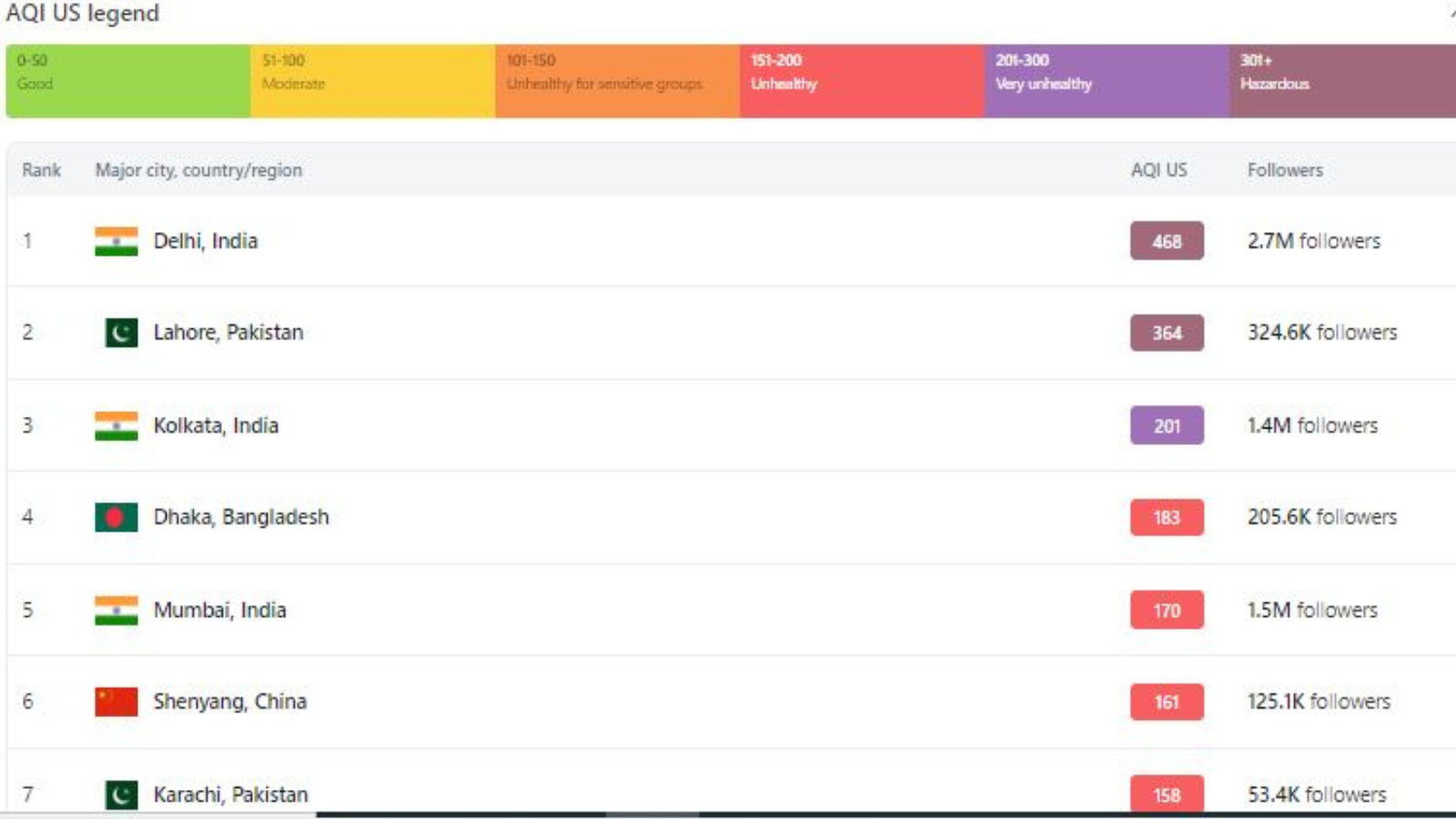 Challenges Behind the Alarming Pollution Levels
Officials attribute the surge in air pollutants to a combination of seasonal factors, including low temperatures, a lack of wind, and the practice of stubble burning in neighbouring states.
Residents of New Delhi, a city of 20 million, have been grappling with various health issues due to the worsening air quality. Many have reported experiencing eye irritation and scratchy throats, while the cityscape has been engulfed in a thick, grey haze, with AQI levels exceeding 550 at some monitoring stations.

An AQI of 0-50 is considered "good," while anything between 400-500 is detrimental to the health of the general population and poses a significant risk to individuals with preexisting medical conditions.

Dr. Ahmed Khan, a Delhi-based physician, expressed his concerns on social media, saying, "In my last 24 hours on duty, I saw babies coughing, children coming with distress and rapid breathing."

The concentration of fine particulate matter, known as PM2.5, reached 523 micrograms per cubic meter, a staggering 104.6 times higher than the permissible guidelines set by the World Health Organization . Long-term exposure to these minuscule particles, which are about 30 times thinner than human hair and can infiltrate the bloodstream through the lungs, has been linked to the development of chronic heart and respiratory conditions.


Measures to Mitigate the Crisis

In response to the dire situation, a crisis plan has been activated in the national capital. This plan encompasses the suspension of construction activities, the promotion of public transportation, and the encouragement of remote work where feasible.

Adding to the challenge, India is currently hosting the Cricket World Cup, and organizers have imposed a ban on fireworks during matches in Mumbai and Delhi to prevent exacerbating the already hazardous air pollution levels.


The haze has even forced changes to the cricket schedule, as Bangladesh cancelled a scheduled training session in Delhi ahead of their match against Sri Lanka. The prospects of the air quality improving before their match appear bleak.

READ ON APP