David Beckham's Heartfelt Message To Shah Rukh Khan & Sonam Kapoor For Hosting: "Thank You My Friend"
During his first visit to India, renowned ex-footballer David Beckham experienced an unforgettable time as Shah Rukh Khan and Sonam Kapoor graciously threw extravagant parties at their individual residences in his honor. Delighted to have Beckham as their esteemed guest, the hosts' joy was reciprocated when Beckham expressed his gratitude with a heartfelt social media post.


David Beckham posted pictures featuring his gracious hosts - one alongside Shah Rukh Khan and another with Sonam Kapoor and Anand Ahuja. His message for Shah Rukh Khan read, "Honoured to have been welcomed into this great man's home. To enjoy a meal with @iamsrk, @gaurikhan, their beautiful children and close friends - what a special way to end my first visit to India... Thank you my friend - you and your family are welcome any time in my home..." The private soirée hosted by Shah Rukh Khan for David Beckham took place at Mannat on Thursday night.


David Beckham expressed his gratitude to Sonam Kapoor and Anand Ahuja, stating, "@sonamkapoor and @anandahuja - you hosted me with such warmth and kindness this week, thank you for the amazing evening you created at your home - see you again soon."

Sonam Kapoor hosted an opulent gathering for the athlete on Wednesday night, which saw the presence of not just Sonam's family members but also notable personalities like Malaika Arora, Shahid Kapoor-Mira Rajput, Farhan Akhtar, and Shibani Dandekar.


Sonam Kapoor responded to David's post, saying, "You're extremely gracious and a thorough gentleman." Anand Ahuja wrote, "@davidbeckham you & your team are the most respectful & thoughtful guests ... you treated everyone with kindness and brought a charming sense of curiosity to all the conversations you had. You constantly showed us your patient, long term outlook on engaging with a part of the world that has always been an observer of your journey and is ecstatic to now be a part of it. And I surely look forward to meeting again soon."


Check out David Beckham's post here:




At the gatherings he attended, David Beckham indulged in some delicious Indian cuisine and showcased his experience on his Instagram stories. Alongside a photo featuring a plate brimming with Indian delicacies, he expressed his admiration, penning, "Wow, I love India." Another post featured a container filled with dessert, accompanied by a caption simply stating "Dessert" along with tricolor emojis.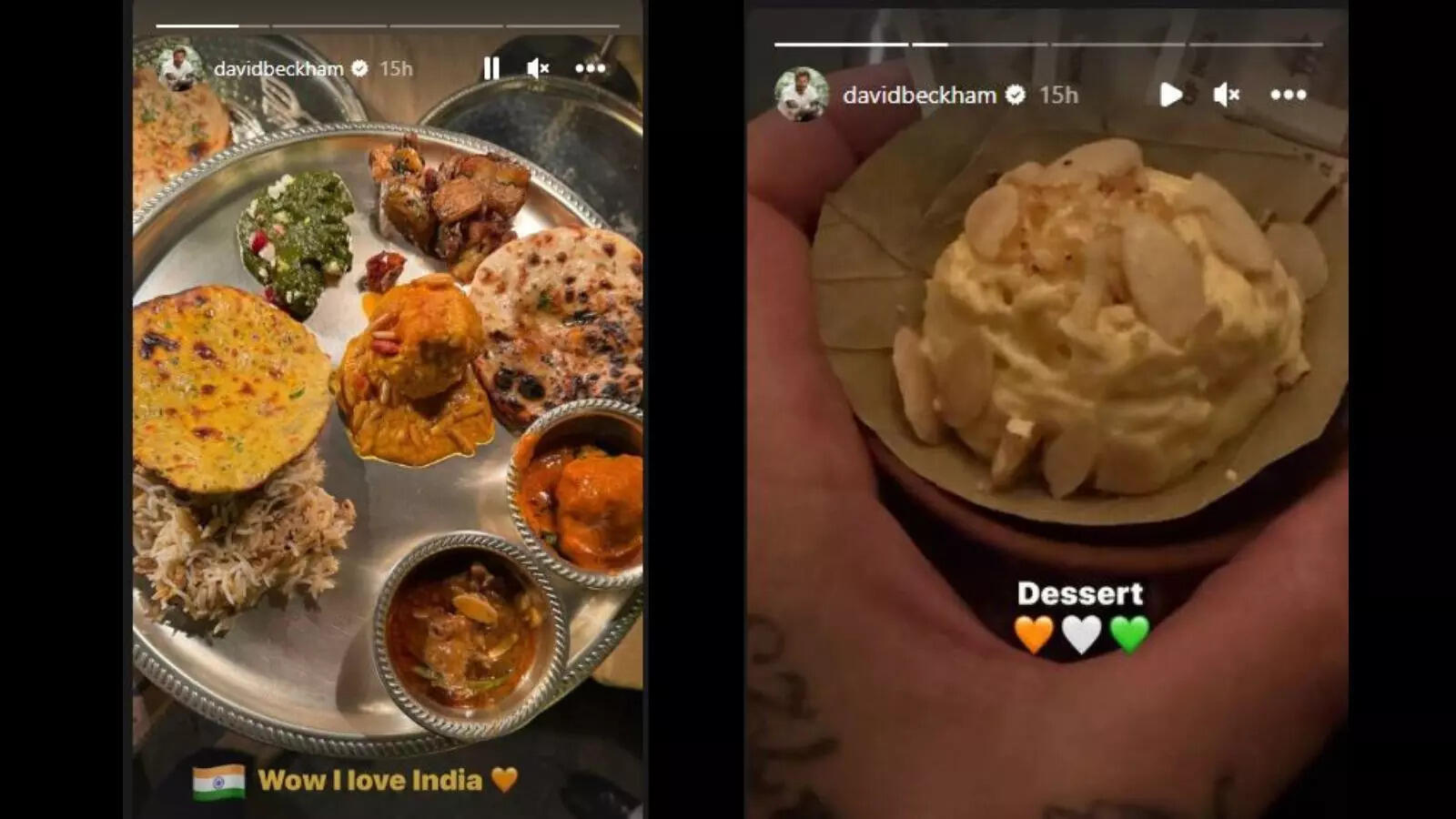 In the meantime, Shah Rukh Khan posted the first picture alongside David Beckham from Mannat on his Instagram last night. The picture showcased the Pathaan actor and David Beckham, both dressed in matching black outfits. In his caption dedicated to the guest, Shah Rukh Khan expressed, "Last nite with an icon...and an absolute gentleman. Have always been a big admirer but meeting him and seeing how he is with kids made me realise that the only thing that out does his football is his kindness and his gentle nature. My love to your family. Be well and happy my friend and get some sleep....@Davidbeckham."

Check out the post here:



David Beckham was warmly greeted in Mumbai, where Sonam Kapoor and Anand Ahuja organized a lavish party for him at their Mumbai residence on Wednesday. The esteemed player donned an all-black ensemble, exuding elegance as he posed alongside the hosts, Sonam and Anand, for the eager shutterbugs. His cheerful demeanor radiated as he smiled brightly for the camera.



David Beckham visited India in his capacity as the Goodwill Ambassador for UNICEF. He attended the World Cup match between India and New Zealand at Wankhede Stadium on Wednesday, accompanied by cricket legend Sachin Tendulkar and other notable personalities.

READ ON APP